releases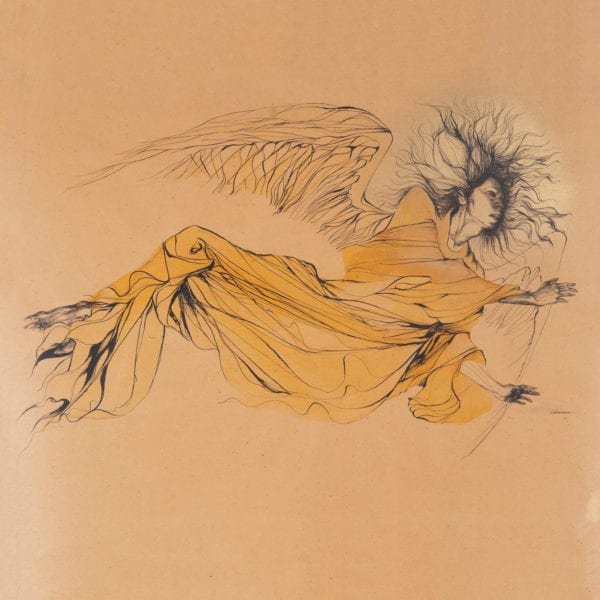 Track list
1. Holy / Sacred
2. We Don't Belong
3. Texture Within
4. Fear And Terror
5. Before The Alter
6. Hole
7. Shepherd
8. Under Water
9. This / Phenomena
10. For My Sins
11. Burning Sea
12. In The Need Of A Shepherd
13. Born Again
14. Triangle
15. Pyramid
16. Ebb And Flow
17. Decomposing
18. The Fire
19. Sacred Revolution
20. Purple
21. Death Hanging
22. In My Blood
Triangle – Susanna
SusannaSonata SONATA026/CD026/LP026 2016
Highly acclaimed and recommended album from Susanna.
The first 70 vinyl records comes numbered and signed.
Susanna's first soloalbum since 2012, and her eleventh album in total, is a mastodont of a singer/songwriter release. Near 70 minutes of intensely expressive, deeply felt and spiritually probing lyrics, presented and performed in layers of voice, electronics, effects and programming together with instruments as piano, violin and tuba. The artist known for  personal interpretations of songs by Joy Division, Leonard Cohen and AC/DC among others but also her strong originals , has dissected her own musical expression, collaborations and projects, and put the pieces together again creating a unique and diverse world for her songs.
'Triangle' is composed, arranged, played, recorded and produced by Susanna. Musicians from Norwegian bands like Supersilent, Broen, Moskus, Splashgirl and Sudan Dudan participated alongside americans Alison Chesley (Helen Money) and Emmett Kelly (The Cairo Gang).
Even in this golden age for female singer-songwriters, Susanna stands out. Her vocal has become ever more versatile and fluid, recalling at times Kate Bush, the Laurel Canyon balladry of Joni Mitchell and Laura Nyro, or the acrobatics of the Cocteau Twins' Liz Fraser. But it's always recognisably her own: calm and determined in the face of enormous forces and looming fears. On the terrifying 'This / Phenomena' it's distorted into a digital mush, while on 'We Don't Belong' it's multitracked to a lush and enveloping chorus. Muted electro track 'Hole' features Anja Lauvdal and Heida Mobeck from rising art pop group Broen besides Skrap, Skadedyr and Moskus – not since Prince in the mid-80s has an existential religious crisis been so beautifully expressed with the tools of electronic pop.
Triangle is soul music for lost souls.
Personnel
Susanna: voice, pianos, autoharp, keyboards, effects, noise, samples and programming
Music and lyrics composed by Susanna
Pyramid composed by Susanna and Helge Sten
Arranged by Susanna, and in collaborations with the musicians
Produced by Susanna
Hole co-produced by Anja Lauvdal and Heida Mobeck, In The Need Of A Shephed co-produced by Fredrik Wallumrød, Triangle and Under Water co-produced by Deathprod
Harpreet Bansal: violin on Before the Altar, In My Blood and Pyramid
Alison Chesley (Helen Money): cello and cello arrangement on The Fire
Ane Marthe Sørlien Holen: orchestral percussion on Under Water and Triangle
Hans Hulbækmo: drums and percussion on Hole
Emmett Kelly: guitar on Texture Within, In My Blood, For My Sins and Pyramid
Anja Lauvdal: synths and piano on Hole
Andreas S. Løwe: synths on We Don't Belong, Death Hanging, The Fire, Texture Within and This / Phenomena
Heida K. J. Mobeck: tuba and effects on Hole
Jo Berger Myhre: double bass, baryton guitar and effects on Purple, Fear and Terror, Under Water, Death Hanging, Triangle and Decomposing
Rolf-Erik Nystrøm: saxophone on The Fire and Born Again
Laura Marie Rueslåtten: hand bells on We Don't Belong and For My Sins
Anders Røine: guitar, langeleik, munnharpe on Death Hanging and Decomposing
Jessica Sligter: vocals on Death Hanging
Helge Sten: guitar, programming, editing on We Don't Belong and Triangle, editing on Hole
Fredrik Wallumrød: programming, synths on In The Need Of A Shepherd