releases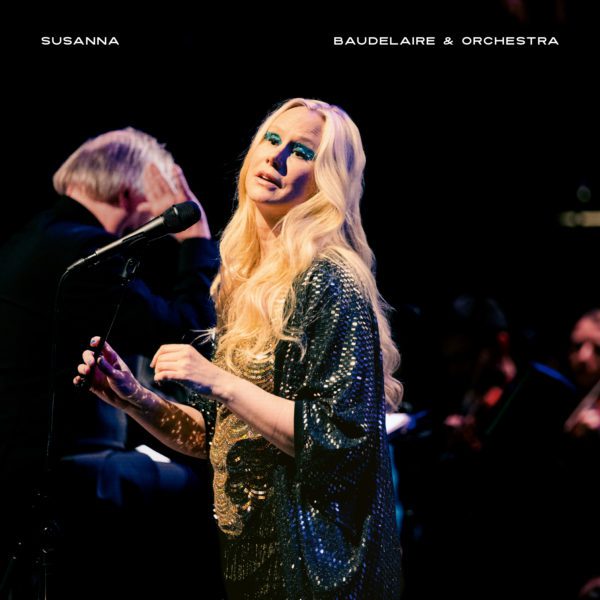 Track list
1. Sarcophagi (Stina Stjern)
2. Obsession (Susanna / Baudelaire)
3. The Ghost (Susanna / Baudelaire)
4. Burial (Susanna / Baudelaire)
5. Heavy Sleep (Stina Stjern)
6. Destruction (Susanna / Baudelaire)
7. Rewind (Stina Stjern)
8. Longing for Nothingness (Susanna / Baudelaire)
9. Alchemy of Suffering (Susanna / Baudelaire / Stina Stjern)
10. Elevation (Susanna / Baudelaire / Stina Stjern)
11. The Vampire Susanna / Baudelaire)
Baudelaire & Orchestra – Susanna (CD/LP/DIGITAL)
SusannaSonata SONATA075/CD075/LP075 2023
"Susanna Wallumrød befester med «Baudelaire & Orchestra» posisjonen som en av våre fremste komponister, vokalister og lydmalende poeter i spennet mellom populærmusikken, rocken, popen og samtidsmusikken."         6/6 Dagsavisen 
"…KORK's graceful scoring and Susanna's full-blooded yet supremely detailed voicing make this a treat for Björk and late-60's Scott Walker fans alike." ⭐️⭐️⭐️⭐️MOJO
Susanna announces new album Baudelaire & Orchestra  a follow-up to 2020's Baudelaire & Piano and 2022's Elevation. 
Norwegian singer songwriter SUSANNA continues to explore her fascination with the poetry and persona of Charles Baudelaire, with a new album that scales up her distinctive settings of the French poet/bohemian's classic texts to the size of an orchestra.
On Baudelaire & Orchestra, Susanna is joined by Oslo's incredible, forward thinking KORK orchestra. The radio orchestra of NRK (Norway's national broadcaster) is known for its progressive approach, diversity and willingness to tackle challenging and contemporary music of all types. The music was arranged by Jarle G. Storløkken, with contributions from innovative composer Jan Martin Smørdal –who was awarded the Nordheim Prize in 2022. Christian Eggen – one of Norway's top conductors – leads the orchestra, while it was produced and mastered by Deathprod.
The addition of the orchestra, plus Stina Stjern weaving in extra textures on cassettes and recorders, and vocals by experimental singer Anita Kaasbøll (Bladed, Feathered Friends, Trondheim Voices), bring out the full spectrum of Baudelaire's strange universe: a lush and sensuous garden where snakes lurk in the undergrowth and poisonous flowers may afflict the unwary.
CD: Digipack with booklet
LP: 300 ltd black vinyl 180gr with innersleeve 
DIGITAL: available for streaming and download
——————–
Susanna: vocals
Stina Stjern: cassette tapes, tape recorder and backing vocals
Anita Kaasbøll: backing vocals
Christian Eggen: conductor
The Norwegian Radio Orchestra
Music composed by Susanna and Stina Stjern
Poetry by Charles Baudelaire
Translations by Anthony Mortimer
Produced by Deathprod and Susanna
Recorded and mixed by Øystein Halvorsen, NRK
Mastered by Helge Sten at AUDIO VIRUS LAB, Oslo
Photo by Tomas Lauvland Pettersen
Cover design by Rune Mortensen