releases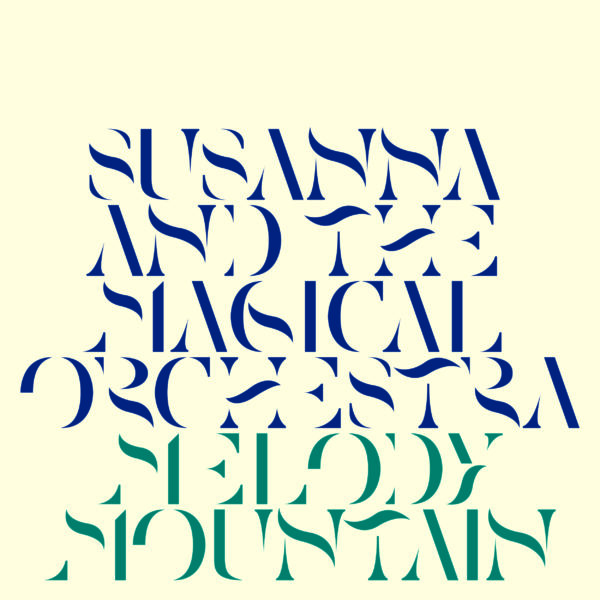 Track list
Side A
1. Hallelujah (Leonard Cohen)
2. It's A Long Way To The Top (Angus Young, Malcolm Young and Bon Scott)
3. These Days (Matt Burt)
4. Condition Of The Heart (Prince)
5. Enjoy The Silence (Martin L.Gore)
Side B
1. Crazy, Crazy Nights (Paul Stanley, Adam Mitchell)
2. Don't Think Twice, It's All Right (Bob Dylan)
3. It's Raining Today (Scott Walker)
4. Love Will Tear Us Apart (Peter Hook, Ian Curtis, Bernard Sumner, Steven Morris)
5. Fotheringay (Sandy Denny)
Melody Mountain – Susanna and the Magical Orchestra (VINYL)
SusannaSonata SONATALP016 2015
 "If you thought the best had already come and gone, try this." 5/5. Independent On Sunday (UK)
"Beautifully arranged with a highly original and personal take on each cover, Melody Mountain is simple and understated." 5/5. Record Collector (UK)
"A true talent in the vein of Chan Marshall and Mira Billotte, she sings like a Norwegian mountain stream, never over-enunciating or throwing in unnecessary trills." Pitchforkmedia (USA)
'Melody Mountain' was recorded in 2005 at several locations in Norway, no ordinary recording studios- but in living rooms, huts, at the Academy of Music and at Emanuel Vigeland Mausoleum.
Songs by AD/DC, Leonard Cohen, Sandy Denny, Kiss, Joy Division and Depeche Mode was all transformed into Susanna and the Magical Orchestra's sparse and stark universe. The music critics went overboard with good reception for this release back in 2006, and especially their version of 'Love Will Tear Us Apart' has received much attention and was a part of The Observer's list of 50 Best Cover Versions ever.
The duo Susanna and the Magical Orchestra split up in 2011, after recording three albums together and a lot of touring in Europe, and some in Asia and USA. Both Susanna and Morten Qvenild is still very active though- with each their projects and bands. Susanna is recording as Susanna, in her regular trio, but also in collaborations with such as Ensemble neoN and Jenny Hval. Both these collaborations received Norwegian Grammy in Open Category. in 2013 and 2014.
This vinyl edition will be a limited one, with new cover design made by Magnus Voll Mathiassen. The album was mixed by Helge Sten in Oslo, Norway, mastered by Bob Katz in Florida, cut by Bernie Grundman in Los Angeles and pressed in the Netherlands by Record Industry, released on 180 grams black vinyl- 500 all together.
The vinyl comes with a different track order than the CD (expired/sold out) and the digital album.
Susanna: vocals
Morten Qvenild: piano, cembalo, autoharp, vibraphone, church organ and keyboards
Stian Carstensen: pedal-steel on It ́s Raining Today
Recorded by Helge Sten at Dagaliveien 14, Østre Nes, Tomba Emanuelle, Lindemansalen and Audio Virus Lab, Norway in 2005
'Melody Mountain' was produced by Deathprod, the arrangements made by Susanna and the Magical Orchestra.